Postdoctoral Researcher, Dr C. M. Iftekhar Hussain, Exploring TPV Systems to Recover Waste Heat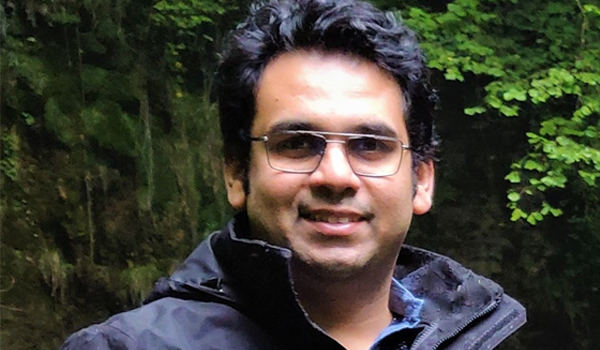 Dr C. M. Iftekhar Hussain, a postdoctoral researcher of industrial waste heat recovery at TU Dublin, first became interested in renewable energy when studying and working in Bangladesh.
Iftekhar began his studies at BRAC University in Dhaka, obtaining a Bachelor's Degree in Electronics & Communication Engineering, where he was also a founding member of the Control and Applications Research Centre. Following his undergraduate studies, Iftekhar went to Kingston University London, where he completed an MSc in Engineering Project and Systems Management. His thesis while at Kingston was about Concentrated Solar Power (CSP) storage systems in collaboration with the Bangladesh Rural Electrification Board. After his MSc, he returned home and worked as a Project Manager in the Bangladeshi renewable energy industry, where he installed and commissioned more than 600 KWp of solar power plants.
On why he became interested in renewable energy, Dr Iftekhar said, "I was keen to work with environmentally friendly renewable energy systems, investigating new approaches to optimise the efficiency, cost, and life cycle of sustainable power generation projects. Furthermore, power generation from multiple energy sources is an interesting option for the future energy industry, and I was interested in exploring hybrid renewable energy systems that are efficient, cheaper and reduce carbon emissions."
In 2014, Iftekhar developed a PhD project proposal to investigate the techno-economic analysis of hybrid solar biomass power generation systems and began searching for a University that could accommodate his work. "The nature of my research was multidisciplinary, leading me to discover the Dublin Energy Lab (DEL), a leader in science and engineering energy research in Ireland. I was delighted when Prof. Brian Norton and Prof. Aidan Duffy kindly agreed to supervise my project."
Iftekhar completed his PhD in 2019, and he is now leading a commercialisation project at TU Dublin to deliver a thermophotovoltaic (TPV) system for industrial waste heat recovery. "Many industries reject up to 50% of their thermal energy into the environment as waste heat, as it is difficult to recover due to the cost and the complexity of installing conventional heat-recovery systems. Our project is developing a novel thermophotovoltaic system that can be easily and cost-effectively retrofitted or integrated to recover industrial waste heat. The thermophotovoltaic (TPV) can generate electricity with no moving parts; significantly reducing maintenance and replacement costs, and convert heat into electricity using solid-state materials, enabling an easy integration process."
Reflecting on his experience as a student and researcher at TU Dublin, Iftekhar says the University is an incredible place to work and learn. "TU Dublin has state-of-the-art facilities enabling high-level research across all its locations, but the campus at Grangegorman is unparalleled in my experience. I was one of the few lucky PhD students that moved to ESHI in the Greenway Hub a number of years ago, and it was great to watch the new campus grow in front of us! Now colleagues previously based across the city are located in the Central and East Quads, facilitating new synergies between disciplines and exciting new research opportunities. It is an incredible time to work in research, especially in Technological Universities, a new category of Higher Education Institution in Ireland. I would encourage any person starting their career or considering a change to explore the infinite possibilities available at TU Dublin."
You can read more about Iftekhar's research here.
More information about PhD & Research Programmes Opportunities at TU Dublin is available here.