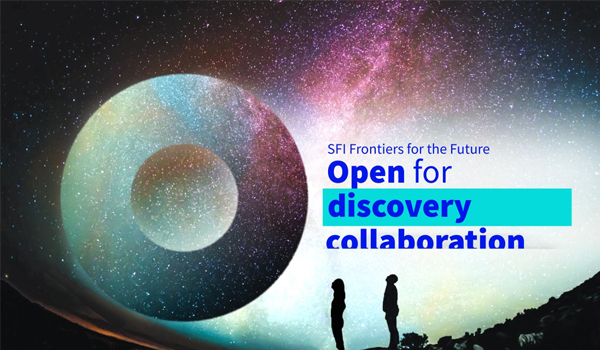 Minister for Further and Higher Education, Research, Innovation and Science, Simon Harris, TD, has today announced that two TU Dublin projects will receive funding of almost €1.2m supporting frontiers research through Science Foundation Ireland.
Commenting on the programme, Minister Harris said: "Congratulations to all the researchers who have received funding today as part of the SFI Frontiers for the Future Programme. I am delighted to support this programme which funds individual-led research, with an emphasis on areas of high-risk, high-reward, which will help us build a better future for Ireland through discovery, innovation, and impact."
"I am pleased to see the successful outcome of the new gender initiative that sees 45% of the research grants announced today led by female researchers. The funding will support researchers who are already carrying out excellent work in Ireland, as well as those in the early stages of their research careers who hold incredible potential. It is through investment like this that Ireland will become an innovation leader and provide solutions and opportunities for our society and economy."
Minister Harris has announced that Dr Aidan Meade, School of Physics and Clinical and Optometric Sciences at TU Dublin, has received SFI Frontiers for the Future Programme funding for a project, which aims to find new ways to identify cancer patients who will respond best to treatments such as chemotherapy and radiotherapy. Welcoming the announcement, Dr Meade said, "Unfortunately, cancer recurs in some hormone receptor-positive breast cancer patients who undergo chemotherapy treatment for early-stage disease, but, in patients who do not suffer a relapse of the disease there is no additional benefit from potentially toxic chemotherapy. This research aims to develop a new imaging test that can be used with tissue to identify patients who can safely forego chemotherapy treatment."
Dr Meade is Principal Investigator on the project with Prof. William Gallagher of UCD while Prof. Fiona Lyng of TU Dublin is also a collaborator.
Dr Dympna O'Sullivan, a Senior Lecturer at the School of Computer Science at TU Dublin, was also awarded funding alongside her Co-Investigator, Dr Julie Doyle, Director of NetwellCASALA at Dundalk Institute of Technology for their project - Enabling Self-Care and Shared Decision Making for People Living with Dementia. Speaking about the research, Dr O'Sullivan said, "Persons with dementia should be at the centre of decision-making about their care including such basics as eating and dressing or advanced tasks such as managing their finances. However, there is limited involvement of people with dementia in the design of technology to support their care. This project aims to develop a computerised solution to support people with dementia to remain healthy and live independently. The solution will be developed in collaboration with persons with dementia and the Alzheimer's Society of Ireland. It will integrate techniques from Human-Computer Interaction to develop an intelligent user interface specifically designed for persons with dementia, from the Internet of Things to create an activity monitoring framework for the home environment and from Machine Learning to implement models for human activity recognition."
Professor Mark Ferguson, Director General of Science Foundation Ireland and Chief Scientific Adviser to the Government of Ireland said: "This was a highly competitive process and I'm delighted that we are able to fund 71 new research grants through the SFI Frontiers for the Future programme. These are highly skilled, talented, and dedicated researchers and it is crucial that we invest in their excellent ideas and research, to maintain and build on Ireland's global standing in research, innovation, and discovery. I would like to thank the Higher Education Institutions for their support in delivering this new programme."
Working across 12 Higher Education Institutes, 231 research positions will be funded, including 95 Postdoctoral scientists, 101 PhD students and 35 Research Assistants/others across a variety of different areas. The programme also sought to provide opportunities to address the gender imbalance in line with SFI's Gender Strategy, 45% of the research grants supported will be led by female researchers. The initiative was run in collaboration with the Geological Survey Ireland (GSI) and the Environmental Protection Agency (EPA). 38 industrial collaborators are engaging in the research programmes.
The SFI Frontiers for the Future programme comprises two funding streams:
Projects – 45 high-risk, high-reward research projects will receive €25 million to facilitate highly innovative and novel approaches to research.
Awards - 26 larger scale innovative, collaborative excellent research programmes that have the potential to deliver economic and societal impact will receive €28m in funding.
More information about the SFI Frontiers of the Future programme is available here.