Programme Title: Bachelors of Science (Honours) in Planning & Environmental Management
2021 CAO Points 330
Minimum Number of

Subjects

Higher

6

2H5's

Minimum Grade in

Maths

Eng OR Irish

N/A

O6/H7
Applications from QQI Level 5 and 6 are welcome. Further details at www.tudublin.ie/qqi
Mature applicants (23+) are welcome. Further details at www.tudublin.ie/mature
If English is not your first language you will need to provide evidence of your English language proficiency as detailed on our website. Applicants for this programme should have a minimum IELTS (Academic Version) English Proficiency of 6 overall (or equivalent) with nothing less than 6 in each component.
View Other Videos
TU835 BSc in Spatial Planning and Environmental Management is designed to prepare and equip you with the skills to be a decision-maker and expert practitioner in planning our urban and rural environments. Now more than ever, graduates are needed who can develop and implement environmental management solutions to critical problems such as climate change and biodiversity loss.
What is… Spatial Planning?
Spatial Planning is all about shaping the future of our towns, cities and regions. Planners work together with communities, businesses and government to plan the future of our urban and rural spaces. Planning graduates will be able to prepare development plans for old and new areas, as well as developing transport and urban design solutions to create the healthier neighbourhoods needed for future generations.
What is… Environmental Management?
Environmental Management is about ensuring a sustainable planet for future generations. It addresses the causes of environmental degradation including climate change, pollution and biodiversity loss and integrates a range of skills and techniques for managing the environment in a sustainable way. Students develop an understanding of the natural world, as well as the social and economic dimensions of environmental issues, both locally and globally.
Are you passionate about our towns and cities?
And curious about the environment and the world around you?
Do you want to join the fight against climate change?
The BSc in Spatial Planning and Environmental Management offers choices, opportunities and careers in creating a sustainable future.
Have a look at the TU Dublin Environment & Planning website to read some Frequently Asked Questions and find out more about TU835
How the Programme Works
The programme is highly practical and applied. Every semester includes at least one major group project. Projects and fieldwork, under the supervision of practicing professionals, are an integral part of the programme.
Students take all subjects in Year 1, which is a common, foundational curriculum.
In Year 2, you opt to stream into either spatial planning or environmental management.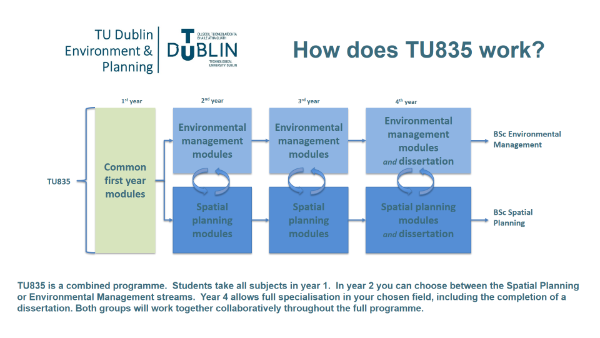 Both streams will continue to work collaboratively together throughout the full programme.
Year 4 allows full specialisation in your chosen field, including the completion of a dissertation.
Have a look at the TU Dublin Environment & Planning website to read some and find out more about TU835
Study Abroad Opportunities
Through the Erasmus programme, you can spend a semester abroad as part of the programme. Recently, students have gone to Hamburg and Dortmund (Germany), Lyon (France), Melbourne (Australia) and Tampere (Finland).
The programme is global in focus. In semester one of first year, students will learn about the UN Sustainable Development Goals, as part of the Planning for Resilience and Sustainable Development module.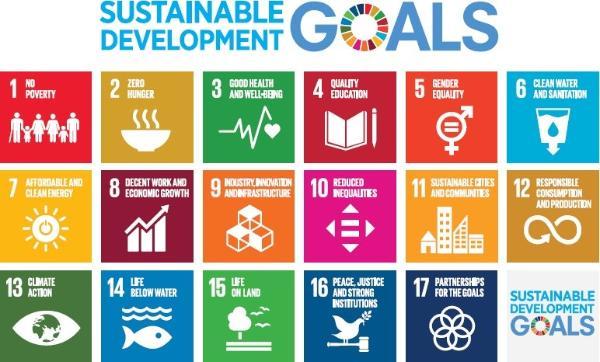 Third year includes a field trip to another EU country.
We also have a partnership with the Gengdang Institute (BGD) at the University of Beijing, China, where some of our students have studied. We welcome students from BGD on our programmes in Dublin.
Have a look at the TU Dublin Environment & Planning website to read some and find out more about TU835
Work Placement
The programme is career-focussed and includes a Work Placement component during third and fourth year, with many graduates going on to find employment with their Work Placement partner.
The programme includes SafePass training, to ensure all graduates have a basic knowledge of health and safety, and be able to work on-site without being a risk to themselves or others.
Through an advanced curriculum, the work placement component and tuition in professional practice, our graduates are more career-ready than ever for work in sustainable development, whether in Ireland or abroad.
Have a look at the TU Dublin Environment & Planning website to read some and find out more about TU835
Professional Accreditation
The BSc Spatial Planning is professionally accredited by both main professional planning institutes:
Irish Planning Institute
Royal Town Planning Institute
Environmental Management students are eligible to take up membership with a range of professional bodies, including: -
ESAI Environmental Sciences Association of Ireland
CIEEM Chartered Institute of Ecology and Environmental Management
CIWEM Chartered Institution of Water and Environmental Management
IEMA Institute of Environmental Management & Assessment
Students will get to meet with leading representatives from professional institutes. Our graduates have a very high success rate in graduate recruitment competitions.
Graduates find work with local authorities, government agencies, non-governmental organisations, industry and private practice.
Many Spatial Planning graduates find successful careers in town planning, retail planning, transport planning, urban design and other specialist areas. Work can include plan making, collaboration and engagement, developing retail and transport strategies and place-making.
Environmental Management graduates are well-placed to make important contributions in a wide range of environment-related areas, such as protecting water, air and soil quality; addressing biodiversity loss and managing natural habitats; tackling issues of waste; and carrying out environmental assessments.
Recently graduates have found employment with the following public sector organisations:
Many graduates find positions within commercial and private sector organisations, including: –
Typical graduate job titles include:
Conservation Officer
Environmental Consultant
Environmental Licensing Officer
Environmental Planner
Planning Consultant
Retail and / or Property Planner
Rural Development Officer
Spatial Planner
Sustainability Co-ordinator
Town Planner
Transport Planner
Urban Designer
These are highly sought-after fields, with significant Government and EU investment already committed as part of the Climate Action Plan, Housing for All Strategy and the EU Green Deal.
The Irish government has committed over €4 billion investment in new housing per year to 2030. €365 million is to be invested annually in public transport and active travel (including 250 new public jobs) up to 2025. Building energy retrofit subsidies will be provided for up to 500,000 homes by 2030.
Globally, industry and governments are transitioning processes and investment towards more sustainable processes and practice in line with the UN Sustainable Development Goals. Every departmental strategy in the Government of Ireland is being fully aligned with the UN Sustainable Development Goals (TU Dublin's is too).
The BSc in Spatial Planning and Environmental Management prepares graduates to join and take a professional role in this unique and unprecedented global transition.
TU835 is a combined programme. Students take all subjects in year 1. In year 2 you can choose between the Spatial Planning or Environmental Management streams.
Years 2 – 4 have both common and streamed modules, so all students will continue to work together collaboratively throughout the full programme
Introduction to Spatial Planning
Introduction to Environmental Management
Planning for Resilience and a Sustainable Future
Earth Sciences
Ecology
Geo-spatial Awareness
Society and Environment
Research, Evidence & Data for Sustainable Development
Layouts and Design Skills Project
Settlement Analysis Project
Common Modules
Applied Geographical Information Systems
Habitats and Biodiversity
Introduction to Economics
Social research methods
Spatial Planning Stream
Built Environment & Heritage Appraisal
Introduction to Development Management
Regional & Marine Planning
Rural Planning
Urbanism
Development Management Project
Residential Layout Project
Urban Audit Project
Environmental Management Stream
Environmental Analysis
Environmental Science
Field Ecology
Soil Science
Climate Systems Project
Conservation Management Plan Project
River Basin Management Project
Common Modules
European Field Trip
Buildings and Infrastructure
Environmental Assessment
Society and Governance
Spatial Planning Stream
Planning Law and Institutions
Planning Techniques
Planning Theory
Transport and Mobility
Urban Design
Urban Economics
Local Area Plan Project
Regional Plan Project
Environmental Management Stream
Earth Sciences III – River Basin
Environmental Economics
Environmental Law and Institutions
Environmental Management Techniques
Sustainable Resource Management
Climate Change Project
Waste Management Project
Common Modules
Professional Practice and Work Placement
Final Year Dissertation
Spatial Planning Stream
Collaborative Planning
Development Management II
Seminars in Strategic Planning
Individual Spatial Plan Project
Master Planning Project
Environmental Management Stream
Coastal Zone & Marine Management
Environmental Auditing
Environmental Licensing
Rural Management Plans
Environmental Licensing Project
Environmental Assessment Project
A recent survey of our graduates shows that: -

98% of graduates are currently employed in a relevant field
92% of graduates said the course was enjoyable and gave them a positive outlook for their career
85% of graduates said they'd recommend the course to a friend or someone close

Our students continually tell us: -

their favourite subjects in secondary school were Geography, Biology, Economics, DCG, Art, etc.
they love the programme because it is hands on, active, applied and very practical
they are passionate about the environment, fascinated with the world around them and curious about the way things work

Here are some testimonials from graduates of the course.
"All in all I think it is a great course and I am delighted that I could finish it. It provides a very solid platform for employment."
This field of study is one of the most interesting, educational and relevant to today's world. I have learned an incredible amount in my four years about our country and the rest of the world. I have loved every moment in college and will leave with some great memories and some equally good friends. I highly recommend spatial planning and the college to anybody.
The best thing about doing this course is that you are taught by professionals with vast experience in the sector, who work in it, and so you are being kept up to date with what is relevant.
The numerous field visits give you a first-hand understanding of how things work and some of the interesting places which you will visit include large factories, waste sites, professional offices and nature parks.