The Wallace Family Fund for Engineering was established in 2016 by engineer Paul Wallace, a graduate in 1958 from Bolton Street. It was with the financial support of a generous donor that Paul himself had the opportunity to study engineering at the then Dublin Institute of Technology. He went on to have a long and fruitful career as an engineer in both industry and academia. Sadly, shortly after establishing the fund Paul passed away at his home in the United States.
The Wallace Family were delighted to continue his legacy and award the forth annual Wallace Family Scholarship for Engineering in 2021 to Jennifer Osemeke.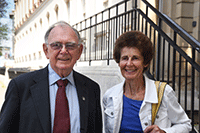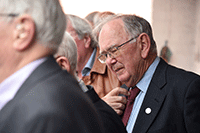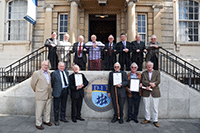 Paul and Margaret Wallace Paul Wallace Paul Wallace and classmates
The aim of the Wallace Family Scholarships for Engineering is to award talented and committed students who will make their mark on the world of engineering. 1 new student is chosen for two years of support of €3,000 for their 3rd and 4th year of study. Students interested in applying for the Wallace Family Scholarship will be asked to demonstrate academic performance, their engagement with the world of engineering outside of the class room as well as their articulate their future career aspirations.

Applications for the Wallace Family Scholarship will reopen in late Autumn 2021.
Scholarship details
The Scholarship, managed by TU Dublin Foundation, is an award of €3,000. It is open to all 3rd year students of Manufacturing, Mechanical and Design Engineering (TU822, TU823, TU703), Product Design (TU811) or Building Engineering (TU825). The successful student will receive a scholarship of €3,000 in both their 3rd and 4th years.
To be eligible to apply students must:
Be a 3rd year student at TU Dublin of Mechanical, Manufacturing and Design, Product Design or Building Engineering. This includes students transitioning from the ordinary degree courses.
A personal statement (approx. 500 words) explaining why you should receive the Wallace Family Scholarship.
This should focus on four areas: your passion for engineering, any challenges you have faced, the impact the scholarship would have on your time at TU Dublin and your career Plans.
Please ensure you receive acknowledgement of your application email within 24 hours.
The decision of the selection panel is final.
Applications for the Paul Wallace Scholarship will open in November 2022.